Road School Maps
Purdue Memorial Union and Stewart Center
View/Download PMU and Stewart Center Map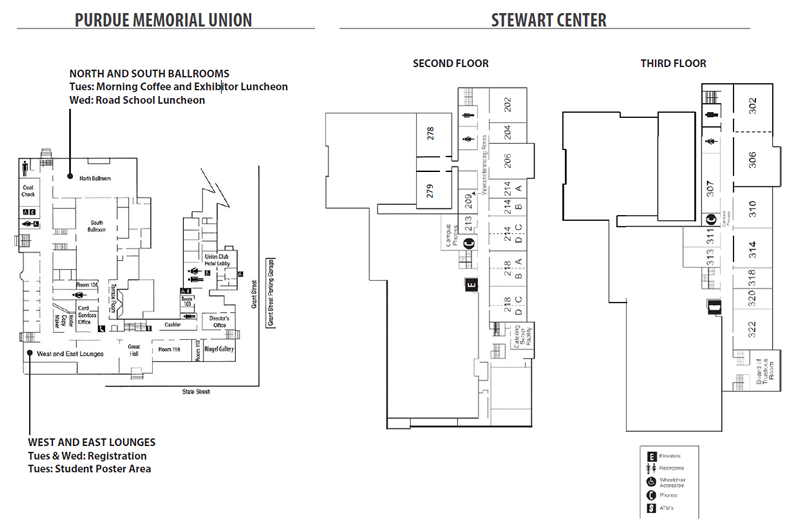 Parking Information
Purdue Road School is proud to offer COMPLIMENTARY parking at the following locations: ADM Lot & Purdue University Airport Lot. COMPLIMENTARY shuttle service will be available from 7a-6p on Tuesday 3/6/18 and Wednesday 3/7/18 for those whom utilize this free service. Please be advised that the ADM Lot shuttle will be ADA Accessible.

With the limited number of parking spaces on campus, we encourage you to take advantage of your hotel shuttle bus service and/or carpool whenever possible. The Grant Street Garage serves the Purdue Memorial Union and is connected by a subwalk. If you are a guest in the Purdue Union Club Hotel, you will receive a free parking permit upon check-in. There will be no pre-sale of parking permits for the Grant Street Garage. If you wish to park here, simply take a ticket from the machine upon entering and pay using the automated machine in the lobby of the garage before you leave. The parking fee for this garage is $10.00 per day.
There are several garages within walking distance of Stewart Center. You may purchase an "A" permit for these campus garages in advance for $5.00 per day. To obtain an "A" pass be sure to select it as an optional item when you register for Road School.
PGG Parking Garage, Grant Street

PGW Parking Garage, Wood Street

PGU Parking Garage, University Street

PGNW Parking Garage, Northwestern Avenue
You may also purchase an "A" permit at any time during the conference online by using the link here, or at the Visitor's Information Center. If you choose to purchase your pass online please select "Guest Login" and then create a guest account. The address for the Visitor's Center is:
1404 West State St.
West Lafayette, IN 47906
Please note: "A" passes and government vehicles are prohibited from parking in the Grant Street Garage.