2017 Road School Recap
Coffee with Exhibitors
Tuesday, 7:00-8:45 AM
North & South Ballrooms, Purdue Memorial Union
Please join our exhibitors for coffee prior to the Opening Session.
Opening Session
Tuesday, 9:00-10:50 AM
Loeb Theater, Stewart Center
Enjoy opening remarks and keynote speakers.
Tim Brown – Indiana State Representative, House District 41
State Representative Tim Brown serves House District 41, which includes portions of Montgomery, Boone and Tippecanoe counties. He was elected as a state representative in 1994. He has served the Legislature in a variety of ways including being appointed as Chairman of the Public Health Committee and the Statutory Committee on Ethics. He has served on multiple committees: Education, Rules and Legislative Procedures, Family, Children, and Human Affairs and the Statutory Committee on Interstate and International Cooperation. Currently, Rep. Brown serves as the Chairman for Ways and Means.
Throughout his tenure as a representative, Rep. Brown has worked on numerous legislative initiatives, many of which included topics on healthcare.
Rep. Brown received his Bachelor of Arts degree from Illinois Wesleyan University and his medical degree from the University of Illinois. Prior to serving in the Indiana House of Representatives, Rep. Brown was the treasurer for the State Medical Association for four years. He has also been a board member of the Franklin Methodist Retirement Community since September 2005. Rep. Brown is an Emergency Room Doctor for St. Elizabeth Hospital in Crawfordsville. Rep. Brown is also a member of Indiana State Medical Association. Rep. Brown has received several awards for his contribution to public health.
Rep. Brown resides in Crawfordsville with his wife Jane and recently retired as an emergency room physician. In his spare time, Rep. Brown enjoys sailing, riding his motorcycle, water-skiing, and traveling to visit family, seeing four daughters. Rep. Brown is also a member of the Linden-Kirkpatrick United Methodist Church.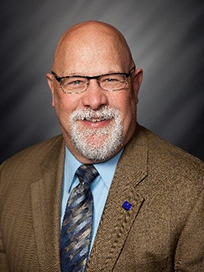 Tim Brown
Chris L. McBarnes – Mayor, City of Frankfort
Elected Indiana's youngest mayor at 23 years old in November of 2011, following his graduation cum laude from Butler University with a communications degree, Frankfort Mayor Chris McBarnes and his team have achieved a number of successes built around a series of 100 and 200-Day Plans involving four cornerstones: Neighborhood Revitalization, Economic Development, Communications and Citizen Voice. A sampling of major achievements from the McBarnes administration include creating an Economic Development Plan and Frankfort Redevelopment Commission; forming a partnership with Ivy Tech Community College to create a local campus in Frankfort; attracting two major food manufacturers, Con Agra Foods and Indiana Packers Corporation, putting Frankfort on the path to being the city that feeds the state that feeds the world; being selected as one of six finalists in Indiana's Stellar Communities Program; creating and implementing six City-County Leadership Summits to bring together more than 50 city, county and education officials to learn about leadership and communication; and implementing community-wide Operation Spring Clean-Up initiatives and Mayor's Night Out events.
With a nod toward his focus on providing quality educational opportunities for area youth, McBarnes established his own foundation, The True North, Inc. that provides scholarships to area youth interested in attending Ivy Tech.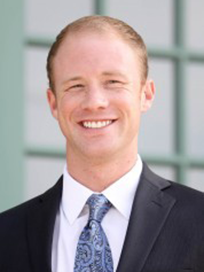 Chris McBarnes
Joe McGuinness – Commissioner, Indiana Department of Transportation
Joe McGuinness was appointed Commissioner of the Indiana Department of Transportation in January 2017 by Governor Eric Holcomb. He is a lifelong Johnson County resident and has been actively involved in transportation and infrastructure planning in central Indiana.
Joe graduated from Franklin College in 2000 with a Bachelor of Arts degree in Sociology and Criminal Justice, and received a Master of Business Administration degree in Accounting from Indiana Wesleyan University in 2009. From 2000-2008, Joe served as a Johnson County Probation Officer. He began working with Peters Municipal Consultants in 2008 as an accountant and financial adviser for municipalities across the state.
Joe was elected mayor of Franklin in November 2011 and took office in January 2012. As mayor, Joe implemented innovative concepts in Franklin and oversaw a significant resurgence in the downtown area. Much of this growth and redevelopment occurred because of substantial investment in infrastructure and solid economic development projects.
He recently served on the Indianapolis Metropolitan Planning Organization Administrative and Policy Committees, Central Indiana Regional Transportation Authority, and the 2045 Long Range Transportation Plan Steering Committee. He also served on the Funding Indiana's Roads for a Stronger, Safer Tomorrow Task Force created during the 2016 legislative session. Joe has been honored to serve on the Accelerate Indiana Municipalities' (formerly IACT) Board of Directors, Legislative Policy Committee, and Community & Economic Development Committee.
Joe and his wife, Anne, have been married since October 2001 and have two children. Joe enjoys spending time with family, coaching his children in sports, and taking an active role in his community.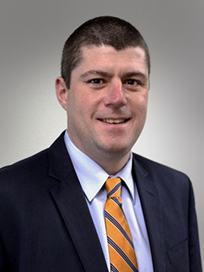 Joe McGuinness
---
Exhibitor Luncheon
Tuesday, 11:00 AM-1:50 PM
North & South Ballrooms, Purdue Memorial Union
The annual exhibitor luncheon provides an opportunity for attendees to visit with the exhibitors and enjoy a sandwich buffet lunch.  Name badges are required for admission.
To view the list of exhibitors please click here
Student Poster Session
Tuesday, 11:00 AM-1:50 PM
Purdue Memorial Union
Adjacent to the South Ballroom (in the southwest corner of the Purdue Memorial Union), students will be exhibiting posters showing recently completed research activities.
Road School Luncheon
Wednesday, 11:30 AM-12:50 PM
North & South Ballrooms, Purdue Memorial Union
Tickets are sold in advance. A limited number of $25 tickets may be released at 10:00 AM on the day of the luncheon. Please inquire at the Road School registration desk in the Purdue Memorial Union.
Eric Holcomb – Indiana Governor
He was elected governor following an unprecedented 106-day campaign and was sworn in on January 9th. Prior to his election as governor, Eric served as Indiana's Lt. Governor.
He is a veteran of the United States Navy and was a trusted advisor to both Governor Mitch Daniels and Senator Dan Coats.
Throughout his career in public service, Eric has earned a reputation of being a consensus builder. He's worked with Hoosiers from all walks of life to build support for a number of initiatives and is the author of the book, "Leading the Revolution," which outlined the successes of the Mitch Daniels approach to campaigning and governing.
Eric is a graduate of Pike High School in Indianapolis and Hanover College in southeastern Indiana where he majored in U.S. History with a focus on the Civil War and Reconstruction. A student of history, he is a collector of presidential signatures and currently has documents signed by 41 of our nation's 44 presidents.
A life-long Hoosier, Eric has traveled extensively throughout Indiana and has made a jump shot in each of the state's 92 counties.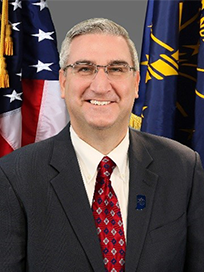 Eric Holcomb
---
ITE Indiana Road School Dinner/Banquet
Wednesday, 5:30-8:00 PM
East Faculty Lounge, Purdue Memorial Union
For additional information please see http://www.indianaite.org