Purdue Road School - 108 Years of Innovative Research
Event Date: March 15 & 16, 2022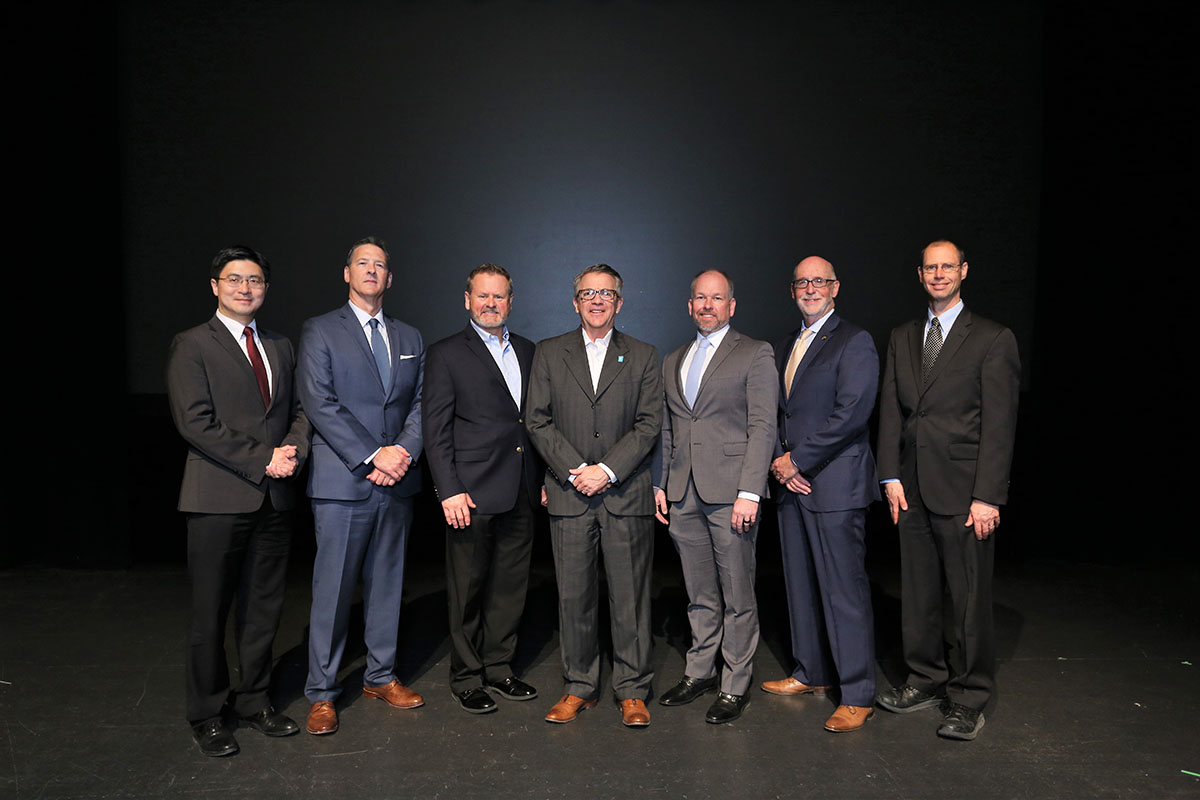 Tuesday's Opening Session Speakers with Road School Co-Chairs: Mung Chiang, John Haddock, Lloyd Winnecke, Fred Cartwright, Michael Smith, Richard Hedgecock, and Darcy Bullock
The 108th Purdue Road School Transportation Conference and Expo returned to an in-person format in 2022.  Purdue University Executive Vice President Mung Chiang welcomed attendees at the Opening Session and remarked how good it was to conduct an event on campus with over 2,700 transportation professionals representing a wide range of agencies, industry, and academia.
The Opening Session featured remarks from Michael Smith, Commissioner for Indiana Department of Transportation (INDOT). A Fireside Chat with Smith and Evansville Mayor Lloyd Winnecke, Fred Cartwright, CEO/President of Conexus, and Richard Hedgecock, President of Indiana Constructors, Inc., addressed transportation initiatives and their impact on state and local economic development. 
The Road School Exhibit Hall on March 15 and 16 provided attendees with opportunities to network and collaborate with 52 exhibitor booths. The Student Poster Session allowed students to share their research and engage with transportation colleagues from across the state.
This year's event included 173 hours of technical sessions involving more than 325 speakers and moderators. Road School presentations are archived in the Purdue Libraries' online repository and are available for viewing at http://docs.lib.purdue.edu/roadschool/. The Purdue Road School archives provides a rich history and has nearly 840,000 downloads from proceedings dating back to 1924.
Additional photos from the 2022 Road School can be viewed here: https://www.flickr.com/gp/jtrp/T35j6o. 
ATTENDEE CEU/PDH REPORTING INSTRUCTIONS:
Professional Development Hours (PDHs) / Continuing Education Units (CEUs) are available for applicable sessions. Attendance at the entire session is required for credit.  Two different options are available for recording/reporting your PDHs/CEUs. 
You may retain a self-reporting, Professional Development Hours Credit Statement for your own records (available at registration).
You may modify your registration and receive an event specific PDH/CEU statement from Purdue University.  By modifying your registration, you certify that you attended all sessions selected.
Below are instructions on how to modify your registration to receive an event specific PDH/CEU statement from Purdue University.
The self-reporting link and website below will not be activated until March 18th directly following the Road School programming and will remain available until April 17th. Sessions attendance must be reported between these dates to be eligible to receive the event CEU/PDH Certificate.
Visit https://tinyurl.com/2022RS-RegModification at the conclusion of Road School
Select the hyperlink "Modify Registration for PDH"
Log in completing the requested fields (email address and confirmation number as they appear on your confirmation email). 
After logged in, click on the "Modify Registration" button on the "Confirmation" tab.
You will advance to the "Terms & Conditions" page. Click the "Next" button at the bottom of the page and proceed to the "Registrant Information" page. Click the "Next" button at the bottom of the page and proceed to the "Sessions" page.   
The list of sessions, ordered by Day and Presentation will appear on the next page.  Select the session(s) you attended and then click on the "Next" button at the bottom of the page.
Follow the prompts to continue and complete the PDH/CEU recording process.
An event specific PDH/CEU statement will be sent to your registration email address on April 18, 2022.